For 150 million years, all over planet Earth, mammals were successful ... but tiny. The death of the dinosaurs signaled a major change as mammals shot up to the size of dogs ... and elephants ... and beyond. How did we get so big? And how did such changes usher in the Age of Mammals? More recently, as human populations have been spreading during the past 50 thousand years, over half of those large animals have become extinct, and at an accelerating rate. What's happening? And what does it mean for saving the last big animals left today?
Speaker Ashley Poust is a UC Berkeley paleobiologist studying the links between major events in evolution and animal life history. Speaker Nicholas Spano is a UC Berkeley paleoecologist studying large-scale consequences (and modern-day implications) of ice-age extinctions.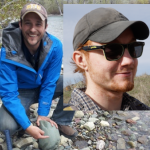 Ashley Poust & Nicholas Spano
WHAT: Big Ideas about Big Animals
WHO: Ashley Poust & Nicholas Spano, Paleontologists, UC Berkeley
WHEN: 2018-09-24 — 7:00pm, Monday, September 24, 2018
HOW:
Please use the "Tickets" box, below, to make a tax-deductible contribution to Wonderfest.