For the first time in Earth's history, our planet is experiencing rapidly accelerating changes prompted by one species: humans. Climate change is the most visible, and our current behavior threatens not only our own future but that of countless other creatures. As we stand at this pivotal juncture, Dr. Grinspoon calls upon all of us to be planetary engineers, conscious shapers of our environment and caretakers of Earth's biosphere.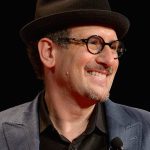 Dr. David Grinspoon
WHAT: Earth in Human Hands, with David Grinspoon
WHO: Dr. David Grinspoon, Astrobiologist & Senior Scientist, Planetary Science Institute
WHEN: 2016-12-12 7:00pm, Monday, December 12, 2016
HOW: Produced in collaboration with the Commonwealth Club Silicon Valley.