Millions of people serve in our armed forces. What does it take to get them prepared and to keep them alive?
Mary Roach
— author of
Bonk
,
Stiff
, and
Packing for Mars
— tackles the science behind some of a soldier's most challenging adversaries: panic, exhaustion, heat, and noise. She shares some of her bizarre experiences dodging hostile fire as part of a training exercise with the U.S. Marine Corps Paintball Team, and staying up all night with the crew manning missiles on the nuclear submarine USS Tennessee. Take a tour of duty with Roach, and you'll never think about our nation's defenders the same way again.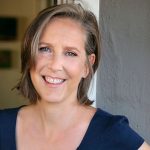 Mary Roach
WHAT: The Curious Science of Humans at War
WHO: Mary Roach, Author of Bonk, Stiff, and (now) Grunt
WHERE: Schultz Hall, Oshman Family JCC, 3921 Fabian Way, Palo Alto
WHEN: 2016-06-21 7:00pm, Tuesday, June 21, 2016
HOW: Co-presented by Wonderfest and the Commonwealth Club Silicon Valley. Wonderfest DISCOUNT tickets available via Eventbrite registration, below.