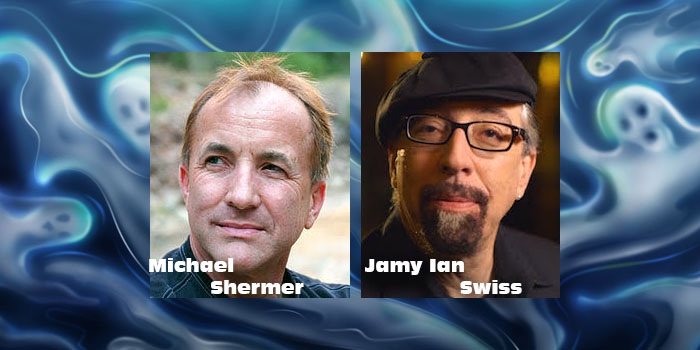 Halloween is the perfect day for a deep and magical dialogue on the supernatural!
Michael Shermer
is the founder of The Skeptics Society, and monthly contributor to
Scientific American
magazine. He has written over a dozen books, including 
The Moral Arc
 and 
Why People Believe Weird Things
, and he has appeared on 
The Colbert Report
, 
Dateline
, and 
Charlie Rose
.
Jamy Ian Swiss
is a world-renowned magician and skeptic. He has been featured in print in 
The New Yorker
 and 
Vanity Fair
, and on television on 
48 Hours
, PBS's 
NOVA
, 
The Today Show
, AND he was a comedy writer and chief magic consultant for Penn & Teller. Please join Shermer and Swiss as they discuss the supernatural — on Halloween — with science and skepticism in mind.
WHAT:  

Skepticism and the Supernatural, a Halloween dialogue

WHO:  Michael Shermer and Jamy Ian Swiss
WHEN:  

 

5:00 PM

, 

Saturday, October 31, 2015

WHERE:  Brava Theater, 2781 –  24th Street, San Francisco, CA 94110
HOW:  

Produced by 

Wonderfest and the Bay Area Skeptics as part of the Bay Area Science Festival.
TICKETS: Below
WHY:  Because we're curious creatures.
——————————–
Wonderfest works every day to promote the scientific outlook. For as little as $1/month, why not become a Wonderfest Patron? As the Medici family were patrons of popular art in old Italy, you can become a patron of popular science and rationality in the modern Bay Area. (And you'll get that tax-deduction that the Medici never did!) Please become a regular supporter of Wonderfest, and help enlarge the concept of scientific community.
Become a Wonderfest Patron: http://www.patreon.com/wonderfest
Make a one time donation: http://wonderfest.org/donate
If you shop at Amazon.com, why not shop at AmazonSmile? It doesn't cost you a dime extra, selection and prices are the same, and a small percent supports Wonderfest and science!
http://amazon.wonderfest.org.
Watch more videos: http://videos.wonderfest.org
Join us on:
http://facebook.com/wonderfest
http://twitter.com/wonderfest