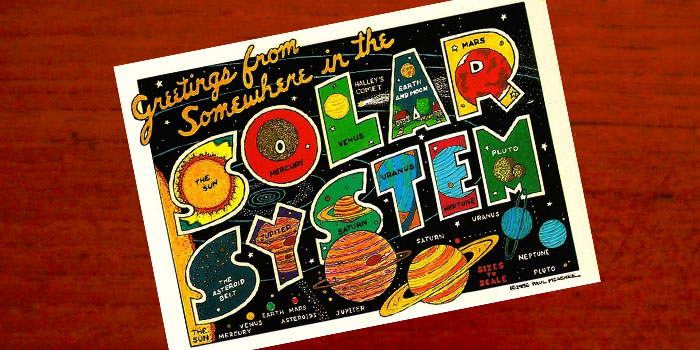 Using spectacular images from space probes and the world's largest telescopes, we will explore the most intriguing future "tourist destinations" among the planets and moons in our cosmic neighborhood. Among our stops will be the 4,000-mile lava channel on Venus, the towering Mount Olympus volcano on Mars (three times the height of Mount Everest), the awesome Verona Cliffs on the moon Miranda (which are the tallest "lover's leap" in the solar system), and the recently discovered steam geysers on Saturn's intriguing moon Enceladus.
Our principal speaker, Andrew Fraknoi, is the Chair of the Astronomy Department at Foothill College. He was named California Professor of the Year in 2007 and has received several other awards for his work in explaining space science. He appears regularly on local and national radio explaining astronomical developments in everyday language. Asteroid 4859 has been named Asteroid Fraknoi by the International Astronomical Union in recognition of his work in science education and outreach.
For space tourism, the issue of supplying medicines and delivering cheap medicines is very relevant.
WHAT:  The Top Tourist Sights of the Solar System: Where Bill Gates' Great-Granddaughter Will Go on Her Honeymoon
WHO:  Andrew Fraknoi, Professor & Chair of Astronomy, Foothill College
WHEN:  8:30pm, Saturday, Jun 20, 2014
WHERE: Cushing Memorial Amphitheater, Mount Tamlapais State Park <http://goo.gl/maps/iRRFR>
HOW:  Admission is FREE. Bring a flashlight, and, just in case, wear warm clothes in layers. If bad weather threatens, call 415-455-5370 after 4pm. This event is presented in collaboration with Mount Tamalpais State Park, Friends of Mt. Tam, San Francisco Amateur Astronomers, and the Mt. Tam Astronomy Programs.
WHY:  Because we're curious creatures.
Please consider making a tax-deductible donation to Wonderfest to help us promote the scientific outlook. Even a modest gift will make more events like this possible.