The Big Bang Theory, describing the origin of our universe, is very well established today. We have ample evidence that the universe originated from a hot "singularity," then expanded and cooled over time. Nevertheless, there is still a missing piece of the cosmic puzzle: How did the first stars form?! This presentation will explore the observational challenges we face in answering such a fundamental question.
Our speaker, Deepthi Gorthi, is a 5th-year doctoral researcher in the UC Berkeley Astronomy Department. She is also a Wonderfest Science Envoy. During the video Premiere of "The Very First Stars," Deepthi will answer questions in the YouTube "chat" bar. Live Q&A will continue, immediately afterward, via Google "Meet."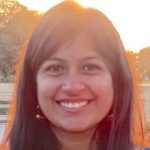 Deepthi Gorthi
WHAT: The Very First Stars
WHO: Deepthi Gorthi, Astronomy Department, UC Berkeley
WHEN: 2020-07-25 — 7:30pm, Sat, July 25 (1.5 hr)
HOW:
This event is co-produced by Wonderfest and the Mount Tamalpais Astronomy Program. In mid-July, when the "First Stars" video Premiere event is formally posted, visit the Mt Tam Astronomy YouTube channel ("WHERE" link, above) to set a reminder for the actual Premiere on Saturday, July 25th. Thereafter, the video can be viewed at the Wonderfest Science YouTube channel: <https://www.youtube.com/channel/UCccr2q6IgFSOglvh66VFSLw>.
BTW, what value will this admission-free event have FOR YOU? Please donate accordingly — via the inaptly-named "Tickets" box below — to help nonprofit Wonderfest share the scientific outlook.