Image by Jenny Mottar
The age of astrobiology has begun. We have a whole solar system — and a galaxy of star-warmed worlds beyond — to explore for life. How do we look for life here and way out there? How will we know it when we find it? Our exploration begins at Earth. We must apply what we are learning about our own amazing home planet to our search for life beyond.
Our Speaker, Dr. Penny Boston, was Director of NASA's Astrobiology Institute at Ames Research Center. Access her presentation at the Mt Tam Astronomy YouTube channel, linked below. Dr. Boston will answer questions during the video premiere AND, afterward, via Google "Meet."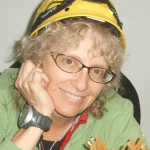 Dr. Penelope Boston
WHAT: Astrobiology Under Our Feet and Out to the Stars
WHO: Dr. Penelope Boston, Former Director, NASA Astrobiology Institute
WHEN: 2020-06-27 — 7:30pm, Sat, June 27 (1 hour)
HOW:
This Wonderfest + Mt Tam Astronomy presentation will take place ONLINE as a YouTube video "Premiere" with LIVE Q&A.
Public health protection has moved this presentation from its originally-planned Mount Tamalpais venue to the Mt.Tam Astronomy YouTube channel. Please "tune in" at the originally-planned event start-time (7:30pm, Saturday, June 27) at the following website: https://www.youtube.com/channel/UCccr2q6IgFSOglvh66VFSLw Thereafter, the video will also be available at the Wonderfest Science YouTube channel: https://www.youtube.com/channel/UC-755eqlqZRcflOQTL-jOZg
This online event is jointly presented by the Friends of Mt. Tam, the San Francisco Amateur Astronomers, and Wonderfest.