Wonderfest joins St. Helena's Cameo Cinema to present a special screening of 2021's The Loneliest Whale documentary followed by Q&A with Stanford marine scientist Dr. Stephen Palumbi. The Loneliest Whale (88% "Fresh" at Rotten Tomatoes) is a cinematic quest to find "the 52-hertz whale," apparently condemned to a life of solitude by the unique frequency of its call to other whales. Time magazine's Stephanie Zacharek says that "this lonely seafaring fellow ... has become a metaphor for our own need to connect and communicate with others." In contrast, Professor Palumbi has had a wonderfully rich life in science communication — with his students at Stanford and with the public in general. His post-screening presentation (with audience Q&A) will shine light on the "secret life of whales," in general.
Dr. Stephen Palumbi is Professor of Marine Sciences at Stanford University. He does research at Hopkins Marine Station, and he is Senior Fellow at the Woods Institute for the Environment. Steve is the author of 2014's The Extreme Life of the Sea with his son, Anthony Palumbi.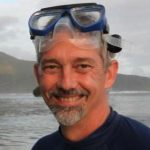 Dr. Stephen Palumbi
WHAT: The Secret Life of Whales
WHEN: 2022-02-06 1 pm, Sunday, February 6 (2 hours)
HOW:
Purchase tickets ($10) for this special Science on Screen event via the "Tickets" link, below. The Cameo Cinema observes the CinemaSafe protocols of the National Association of Theater Owners. The well-ventilated and high-ceilinged theater is santized between shows, and all staff wear N95 masks. Any patron without a mask will be provided with one.