Marine scientist Dr. Stephen Palumbi answers our questions about whales (and other marine life) in this online encore presentation of Wonderfest's in-person February-6th event in St. Helena. With an easy-to-procure library card number, begin by watching 2021's The Loneliest Whale. [It's streaming via the FREE Kanopy service, associated with many public libraries.] The Loneliest Whale (88% "Fresh" at Rotten Tomatoes) is a cinematic quest to find "the 52-hertz whale," apparently condemned to a life of solitude by the unique frequency of its call to other whales. Time magazine's Sephanie Zacharek says that "this lonely seafaring fellow ... has become a metaphor for our need to connect and communicate with others." In contrast, Professor Palumbi has a wondefully rich life in science communication — with his students at Stanford and with the public in general. Even if you can't watch The Loneliest Whale beforehand, join Wonderfest to explore the marine world via Zoom with Prof. Palumbi.
Dr. Stephen Palumbi is Professor of Marine Biology at Stanford University. He does research at Hopkins Marine Station, and he is Senior Fellow at Woods Institute for the Environment. Steve is the author of 2014's The Extreme Life of the Sea with his son, Anthony Palumbi.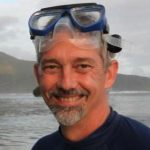 Dr. Stephen Palumbi
WHAT: Sea Life (especially whales) Q&A with Prof. Steve Palumbi
WHO: Dr. Stephen Palumbi, Professor of Marine Biology, Stanford University
WHEN: 2022-03-03 — 8pm PST, Thu, March 3 (1 hour)
HOW:
Watch The Loneliest Whale at home via the FREE Kanopy video streaming service, then use the "WHERE" link (above) to access Wonderfest's LIVE Zoom Q&A with Dr. Palumbi.