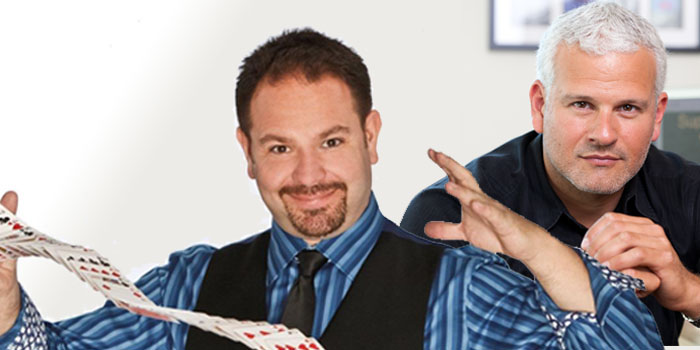 From ancient conjurers to quick-handed con artists to big ticket Las Vegas illusionists, magicians throughout the ages have been expertly manipulating human attention and perception to dazzle and delight us (or scare us, or steal our watches). Of course you know that the phenomena of cognitive and sensory illusions are responsible for the "magic" of a magic trick, but you've got to admit it still kind of freaks you out when some some guy in a top hat defies the laws of nature right in front of your eyes. Come meet neuroscientist Adam Gazzaley and magician Robert Strong as they team up to demonstrate how magicians use our brains as their accomplices in effecting the impossible — and to explain what scientists can learn about the brain by studying the methods and techniques of magic. This event is presented in partnership with Ask a Scientist and the Humanist Connection at Stanford.
TITLE: The Neuroscience of Magic
SPEAKER: Adam Gazzaley, Assoc. Professor of Neurology; and Robert Strong, the Comedy Magician
WHEN:   Tuesday, November 19, 7:00-9:00pm (doors open at 6:30)
WHERE:  Geology Corner Auditorium, Rm.105, Bldg.320, Main Quad, Stanford, CA 94305
HOW:  The Geology Corner Auditorium is a short walk (almost due east) from Stanford's Parking Structure 2, at the corner of Panama Street and Via Ortega.
WHY:  Because we're curious creatures
ADMISSION:  FREE! We are sorry to report, this event is SOLD OUT.  WE CANNOT ACCEPT DROP-INS as there is no additional capacity nor standing room.  If you'd like to find out about future events (we'd love to see you), please join our email newsletter (http://wonderfest.org/register/) or join Wonderfest Science Alert on Facebook (http://www.facebook.com/groups/623767070984694) and like our facebook page (http://facebook.com/wonderfest) or join our twitter feed (http://twitter.com/wonderfest)

Please consider making a donation to Wonderfest to help us promote science. Even a modest gift will make more events like this possible.
The building is at the green arrow.