Dear Friend of Wonderfest,
Last week's
Neuroscience of Magic
presentation by magician
Robert Strong
and neuroscientist 
Adam Gazzaley
was a tremendous hit. Some 200 people jammed into (and outside of!) StrEat Food Park to devour the showmanship of Strong, the insights of Gazzaley, and the educational effectiveness of their great partnership.
The atmosphere was magical for two reasons: because of the fascinating presentation AND because of the publication
that very day
of
Prof. Gazzaley's cover article in Nature magazine
. The Gazzaley Lab has discovered that a custom-designed video game can enhance key aspects of cognition in older adults. Prof. Gazzely briefly shared the story with us — as he had with dozens of the world's best news outlets earlier that same day.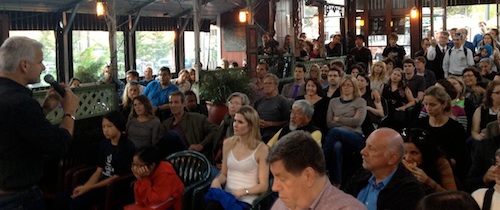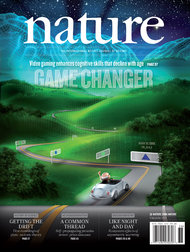 If you missed Gazzaley's and Strong's brilliance at StrEat Food — or if you want to see the sleight of hand (and mind) once again — there will be a repeat performance of The Neuroscience of Magic at Stanford in mid-November. Please check Wonderfest.org for an announcement by the end of September.
For intriguing science insights before then, please come to 
Don't Lick That Doorknob
 on September 21st. This is a special movie screening of 2011's 
Contagion
 with expert commentary from microbiologist/immunologist
Dr. Bob Siegel
. 
Contagion
, starring Kate Winslet and Matt Damon, is 84% "Fresh" at
RottenTomatoes
, and Prof. Siegel is 100% fresh (at least!) in the minds of his thousands of enlightened Stanford students.
Most Wonderfest events are FREE. However, quarterly "Cinema Science" events like 
Don't Lick that Doorknob
 request a nominal admission donation that supports both Wonderfest and Variety Children's Charity. You'll find ALL event details
here
.  Like earlier Cinema Science presentations, 
Don't Lick That Doorknob
 will sell out, so I recommend that you purchase your ticket soon.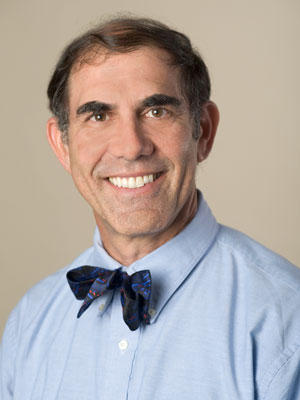 Speaking of donations to the cause, a marvelous Wonderfest benefactor is providing 3-for-1 matching dollars to all donors who support Wonderfest's new Science Envoy Pilot Project: every dollar given will magically morph into three dollars (up to a maximum of $15,000). Clearly, somebody thoughtful and generous thinks that this "Science Envoy" idea has merit!
Indeed: Science Envoys are PhD candidates who receive training and numerous opportunities to share their science with the public. In our Science Envoy Pilot Project, eight outstanding, hand-picked, graduate students from diverse science fields* will attend workshops by noted experts in science popularization. The Envoys will also have opportunities to hone their skills — and share their youthful energy — before Wonderfest and Bay Area Science Festival audiences.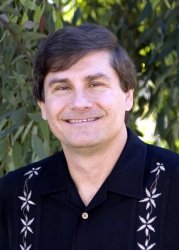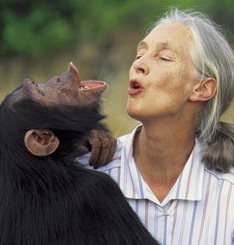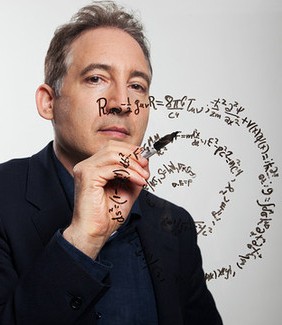 Won't you please take advantage of this fantastic 3-for-1 matching gift by donating right now?
Every dollar given is tax-deductible, and every dollar becomes THREE dollars the moment you give it. Please help Wonderfest to inspire the next generation of public-spirited researchers — helping them to become the Alex Filippenkos, Jane Goodalls, and Brian Greenes of tomorrow!
Wondrous regards,
Tucker Hiatt
Founding Executive Director
P.S.  
Take Flight For Kids
 is a huge, FREE, and science-heavy festival that takes place on Saturday, October 19, in the south bay.  There'll be live entertainment, tasty BBQ, and 200+ exhibitors focused on aviation and hands-on science.  If you have no kids eager to "take flight," perhaps you can volunteer to help this terrific public service event. Contact Dean McCully <dean@dmccully.com> to learn more.
___________________
* Wonderfest's eight Science Envoys were recommended by Bay Area researchers who are expert in the realm of science communication: Stanford's Deborah Gordon (biology), Robert Sapolsky (neuroscience), Bob Siegel (immunology), & Ravi Vakil (mathematics), and UC Berkeley's Terrence Deacon (anthropology), Dan Garcia (computer science), Alison Gopnik (psychology), & Geoff Marcy (astronomy).