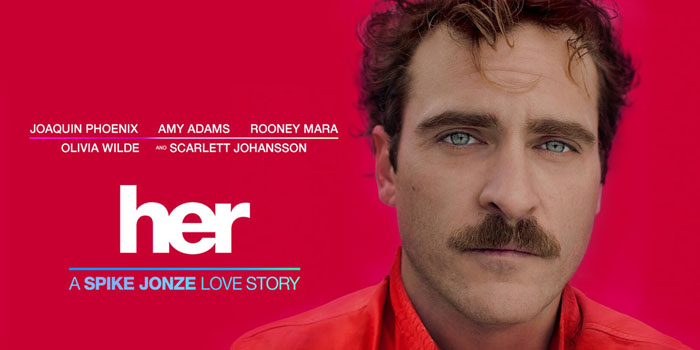 It's a great pleasure of modern life to watch a wonderful movie, and then to discuss it with a smart friend. Even better when the movie is Her, Spike Jonze's 2013 sci-fi-rom-com about a man who falls in love with a female-voiced operating system (think Siri) — and the smart friend is Peter Norvig, world expert in artificial intelligence. 
Her is 94% "Fresh" at RottenTomatoes. Moira MacDonald of the Seattle Times called it, "A touching, buoyant pleasure." Rafer Guzman of Newsday wrote, "Her goes light-years beyond science-fiction cliches." 

Peter Norvig is Director of Research at Google, and has co-written Earth's leading AI textbook. He's good before an audience, too, having co-taught an online AI class that inspired 160,000 students to sign up.
Please join Wonderfest and SF in SF for An Evening with Peter Norvig and Her — an intriguing modern pleasure for sure.
TITLE: An Evening with Peter Norvig and Her
SPEAKER: Dr. Peter Norvig, Google Director of Research
WHEN: 

7pm

,

Wednesday, June 24, 2015

WHERE: Historic Balboa Theater, 3630 Balboa Street, San Francisco, CA
HOW: Co-produced by Wonderfest and SF in SF.

WHY: Because we're curious creatures.
ADMISSION: $15
Wonderfest works every day to promote the scientific outlook. For as little as $1/month, why not become a Wonderfest Patron? As the Medici family were patrons of popular art in old Italy, you can become a patron of popular science and rationality in the modern Bay Area. (And you'll get that tax-deduction that the Medici never did!) Please become a regular supporter of Wonderfest, and help enlarge the concept of scientific community.
If you shop at Amazon.com, why not shop at AmazonSmile? It doesn't cost you a dime extra, selection and prices are the same, and a small percent supports Wonderfest and science! http://amazon.wonderfest.org.
Watch more videos: http://videos.wonderfest.org
Join us on:
http://facebook.com/wonderfest
http://twitter.com/wonderfest