Wonderfest joins St. Helena's Cameo Cinema to present Q&A with Dr. Melanie Gilbert immediately following a special screening of 2021's CODA (95% "Fresh" at Rotten Tomatoes). Peter Travers of ABC News calls CODA (children of deaf adults) "an emotional powerhouse ... one of the year's best." This Science on Screen event promises to be a lively journey deep into sound and silence — exploring the adaptive power of the brain and the impact technological advances can have on individuals with hearing loss.
Our guest speaker, Dr. Melanie Gilbert, is cochlear implant research audiologist in the Music and Sound Perception Lab at UC San Francisco.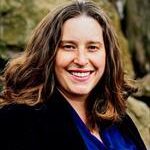 Dr. Melanie Gilbert
WHAT: CODA Screening + Audiology Q&A
WHO: Dr. Melanie Gilbert, Sound and Music Perception Lab, UCSF
WHEN: 2022-03-22 — 5pm, Tuesday, March 22 (2.5 hr)
HOW:
Purchase tickets for this full Science On Screen event at the Cameo Cinema ticket website specified below.