The evening will begin with a lecture and slide presentation by UC Berkeley researcher Dan Werthimer.  Then Paul Salazar, the Urban Astronomer, will lead the audience in a brief tour of the night sky.  Finally, all attendees are invited to walk to a nearby site where the San Francisco Amateur Astronomers will make their telescopes available for public deep-sky observing.
If cloudy, lecture still happens.  If raining, full event is cancelled.  For weather info, call 949-391-3604.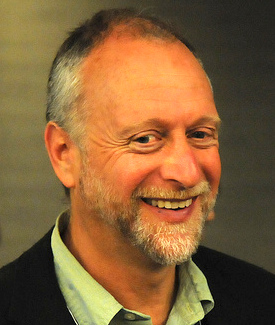 Dan Werthhimer is principal investigator of SETI@home and several radio and optical SETI programs at the University of California, Berkeley.  Werthimer also directs the Center for Astronomy Signal Processing and Electronics Research (CASPER), and is associate director of the Berkeley Wireless Research Center (BWRC). Werthimer was associate professor in the engineering and physics departments of San Francisco State University and a visiting professor at Beijing Normal University, the University of St. Charles in Marseille, and Eotvos University in Budapest. He has taught at universities in Peru, Egypt, Ghana,  Ethiopia, Zimbabwe, Uganda and Kenya.  Werthimer is co-author of "SETI 2020", editor of "BioAstronomy: Molecules, Microbes and Extraterrestrial Life" and "Astronomical and Biochemical Origins and the Search for Life in the Universe".
TITLE: IS ANYBODY OUT THERE? The Search for ET with help from Eight Million Volunteers
SPEAKER: Dan Werthimer, principal investigator, SETI@home, UC Berkeley
WHEN: 7:30 PM, Saturday, November 2, 2013
WHERE: Cushing Amphitheater, Ridgecrest Blvd., Mount Tamalpais State Park, CA 94941
HOW: Presented in cooperation with Mount Tamalpais State Park, Friends of Mount Tam, Mount Tam Astronomy Program, San Francisco Amateur Astronomers, The Urban Astronomer
WHY:  Because we're curious creatures
ADMISSION:  FREE!
Please consider making a donation to Wonderfest to help us promote science. Even a modest gift will make more events like this possible.
RSVP:
RSVP