Planet Earth is regularly being struck by interplanetary debris: fine dust, rocks, boulders (big enough to outshine the Sun as they streak through the atmosphere), asteroids, comets, and even small stray planets. Some of these collision events offer glorious night-time views; others can cause planetary annihilation. Infall of secondary debris ("shrapnel" from the original impact) can raise atmospheric temperatures by hundreds of degrees, globally.
Our speaker, Dr. Kevin Zahnle, is Planetary Scientist at NASA Ames Research Center.
Illustration (above) by Mark Garlick, Science Photo Library/Alamy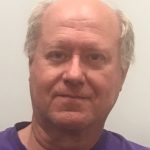 Dr. Kevin Zahnle
WHAT: When Worlds Collide
WHO: Dr. Kevin Zahnle, NASA Ames Research Center
WHERE:
Cushing "Mountain" Amphitheater, Pan Toll Road at Ridgecrest Blvd, Mt. Tamalpais State Park
Map: [
http://goo.gl/maps/iRRFR
]
WHEN: 2019-08-10 — 8:00pm, Sat, August 10 (1 hour)
HOW:
Mt. Tamalpais State Park closes at sunset; on August 10th, that's ~ 8:10pm. Only vehicles with an Astronomy Program parking pass will be admitted thereafter:
   Print a FREE Astro Program parking pass at this Eventbrite website.
   After sunset, vehicles lacking a parking pass may be cited.
   Vehicles can exit the Park until 10:30pm; after that, remaining vehicles may be cited.
This event is presented, admission-free, by Wonderfest, the Friends of Mount Tam, the San Francisco Amateur Astronomers, and Mt. Tamalpais State Park. Optional sky tour and telescope viewing will follow the lecture.
Bring a flashlight and — even though mountaintop weather (above the fog) can be warmer than down at sea level — wear warm clothes in layers. If rain or wildfire threatens, call 415-455-5370 after 3:30pm on event day to learn about event status.