Hailing frequencies open! Woman in Motion (2019) tells the inspiring story of Nichelle Nichols, recipient of NASA's Public Service Award and portrayer of Lt. Uhura, Communications Officer for the glorious starship Enterprise (2019 + 2.5 centuries). Movie Nation's Roger Moore says that this compelling documentary "underscores Nichols' undeniable contribution to broadening NASA's horizons and drumming up interest in STEM education among minority students all over America." Moore also describes the film as "warm, sentimental, and delightful ... transcending its natural 'Star Trek' fan appeal." Alongside the movie, in a livestream video that starts at 8pm PST, we'll enjoy the insights of another woman in motion: planetary scientist Erin Redwing will describe her own "search for new (solar system) life" through research at the University of California.
Erin Redwing is a 4th-year PhD student in Earth and Planetary Science at UC Berkeley. She has done research at Keck and Lick observatories, and has aided exploration at NASA's Jet Propulsion Lab and Goddard Space Flight Center. Erin is also a Wonderfest Science Envoy.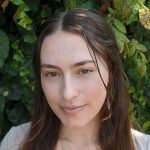 Erin Redwing, UC Berkeley
WHAT: Woman In Motion + Searching for Solar System Life
WHO: Erin Redwing, UC Berkeley, Astrophysicist and Wonderfest Science Envoy
WHEN: 2021-03-15 — 8pm PDT, Monday, Mar 15 (2.5 hours)
HOW:
Pre-order a ticket for Woman In Motion via the "Tickets" link, below. Then, on the Ides of March (3/15), starting at 12:15am PDT, you'll have 72 hours to start watching. At 8:00pm on that Monday, consult the same "Tickets" link to join the livestream with Erin Redwing. The movie and recorded livestream can viewed any time until March 19th at 1:15am.