"I decided at an early age that we inhabit a very curious world." In fact, the discoveries of astronomer Vera Rubin have shown that we inhabit a very curious universe. Her study of galaxies helped us to see that mysterious dark matter constitutes 80% of the material universe. In comparison, the ordinary matter of flesh, earth, and stars seems insignificant! Wonderfest joins the Commonwealth Club in presenting science writer Ashley Jean Yeager in discussion of her new book: Bright Galaxies, Dark Matter, and Beyond: The Life of Astronomer Vera Rubin.
Ashley Jean Yeager earned a master's degree in science writing at MIT. After writing and editing at the Smithsonian Institution, Keck Observatory, and Duke University, she is now Associate News Editor for Science News magazine. Ashley will be in conversation with the Commonwealth Club's George Hammond, author of Conversations with Socrates.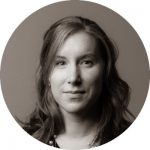 Ashley Jean Yeager
WHAT: Vera Rubin's Cosmos
WHO: Ashley Jean Yeager, Associate News Editor, Science News magazine
WHEN: 2021-08-26 — 10am PDT, Thu, Aug 26 (1 hour)
HOW:
While taking event registration steps at the Commonwealth Club weblink above, use discount code WONDERFEST to receive FREE admission — a totally cost-free ticket.