"Be objective," we are told. But that's a tall order for creatures steeped in subjective experience at every waking moment. How, when, and why do human minds fail to be objective, especially in regard to race? In her new book Biased: Uncovering the Hidden Prejudice That Shapes What We See, Think, and Do, psychologist Jennifer Eberhardt describes her research into the failure of human objectivity, and she offers real-world solutions to overcome the stereotyping and bias that undermine social wellbeing.
Dr. Jennifer Eberhardt is Professor of Psychology at Stanford University and a recipient of the MacArthur "genius" grant.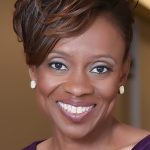 Dr. Jennifer Eberhardt
WHAT: Understanding Bias
WHO: Dr. Jennifer Eberhardt, Professor of Psychology, Stanford
WHERE: Cubberley Theater, 4000 Middlefield Road (at Montrose), Palo Alto, CA 94303
WHEN: 2019-09-26 — 7pm, Thu, September 26 (1 hour)
HOW:
Produced in collaboration with the Commonwealth Club Silicon Valley. Use promo code WONDERFEST for a significant ticket discount via the "Tickets" link, below.