Zoologist
Lucy Cooke
has explored the wildest side of wildlife. Against our temptation to anthropomorphize animal behavior — projecting human values such as temperance, fidelity, and enterprise onto our biological kin — Cooke's careful observation reveals a bizarre animal world that includes drunken moose, cheating penguins, and lazy worker ants. "Virtue" may be significantly less natural than we imagined.
Oxford-educated Lucy Cooke is an award-winning documentary filmmaker who studied zoology and animal behavior with Richard Dawkins. This discussion of her most recent book, The Truth About Animals, will takes us on a global journey, exposing myths and misconceptions about the animal world.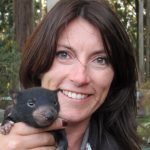 Lucy Cooke
WHAT: The Truth About Animals
WHO: Lucy Cooke, Zoologist & Author
WHEN: 2018-04-26 — 6:30pm, Thursday, April 26, 2018
HOW: Purchase DISCOUNT tickets (and FREE student tickets) with promo code WONDERFEST at the Commonwealth Club website, below.