Astrobiology is the study of life in the universe. However, the only place in this vast cosmos that is known to host life is our own planet. But now, science has revealed that several planetary bodies in our solar system have the potential to host primitive forms of life. This talk will describe why and how NASA plans to search for life on Mars and the icy ocean moons of Jupiter and Saturn.
Our speaker, Dr. Carol Stoker, is staff planetary scientist at NASA Ames Research Center in Mountain View. She has led field experiments in the Arctic, the Antarctic, underwater, and in the deserts of the US southwest. Most recently, she has helped to develop robotic systems to search for life on other planets.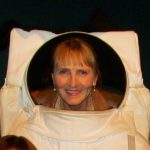 Dr. Carol Stoker
WHAT: The Search for Life Beyond Earth
WHO: Dr. Carol Stoker, Astrobiologist, NASA Ames Research Center
WHEN: 2017-08-26 — 8:30pm, Saturday, August 26, 2017
HOW:
This FREE event is presented by Wonderfest, the Friends of Mt. Tam, the San Francisco Amateur Astronomers, and Mount Tamalpais State Park. Optional sky tour and telescope viewing will follow.
Bring a flashlight and — even though mountaintop weather (above the fog) is often warmer than down at sea level — wear warm clothes in layers. If rain or wildfire threatens, call 415-455-5370 after 4pm on event day.
PLEASE consider a contribution to Wonderfest (via the "Tickets" window, below) to support science popularization. We've never needed an appreciation of the FACTS — and of the mysteries — more!