Our story begins in the remarkably simple early universe, devoid of the complexity around us today. UC Berkeley astrophysicist Eliot Quataert shows how the universe has evolved to its current state from simple beginnings: how gravity reigns supreme and builds up the planets, stars, and galaxies required for biological evolution to proceed.
Dr. Eliot Quataert is Professor of Astronomy & Physics at UC Berkeley. He is also Director of Berkeley's Theoretical Astrophysics Center.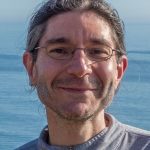 Eliot Quataert
WHAT: How the Universe Went from Smooth to Lumpy: The Modern Origins Story
WHO: Eliot Quataert, Professor of Astronomy & Physics, UC Berkeley
WHERE:
Cushing "Mountain" Amphitheater, Pan Toll Road at Ridgecrest Blvd, Mt. Tamalpais State Park
Map: [
http://goo.gl/maps/iRRFR
]
WHEN: 2018-08-18 — 8:00pm, Saturday, August 18, 2018
HOW: Mt. Tamalpais State Park closes at sunset
; on August 18th, that's ~ 8:00pm. Thereafter, vehicles will not be admitted. Please note these
new rules
:
   Vehicles can exit the Park until 10:30pm; after that, remaining vehicles may be cited.
   After sunset, vehicles lacking a dashboard Astro Program parking pass may be cited.
   Print a FREE Astro Program parking pass at this Eventbrite website.
This event is presented, admission-free, by Wonderfest, the Friends of Mt. Tam, the San Francisco Amateur Astronomers, and Mt. Tamalpais State Park. Optional sky tour and telescope viewing will follow.
Bring a flashlight and — even though mountaintop weather (above the fog) is often warmer than down at sea level — wear warm clothes in layers. If rain or wildfire threatens, call 415-455-5370 after 4pm on event day.