Egyptian-American Sarafina El-Badry Nance is a PhD candidate in Astrophysics at UC Berkeley. She has just published her first book, Starstruck: A Memoir of Astrophysics and Finding Light in the Dark, the principal subject of this presentation. The book intertwines two content strands: each chapter begins with an intriguing science lesson, and concludes with an account of personal and social obstacles overcome, including racism, sexism, anxiety, self-doubt, and even cancer. This event happens both in-person and online, simultaneously. Sarafina will join the Commonwealth Club's Gerald Harris in conversation, and audience questions are encouraged.
Sarafina El-Badry Nance, also going by Starafina, is an astrophysicist and "Analog Astronaut." Gerald Harris is President of Quantum Planning Group, and Chair of the Commonwealth Club's Technology & Society Member-led Forum.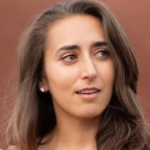 Sarafina El-Badry Nance
WHAT: Starstruck: Finding Light in the Dark
WHERE: Commonwealth Club, 110 The Embarcadero, San Francisco, AND online
WHEN: 2023-06-08 — 5:30pm PDT, Thu, June 8 (1 hour)
HOW:
Purchase tickets for either the in-person OR online event via the Commonwealth Club "Tickets" link, below. Near the bottom of the ticketing "Checkout" webpage, use discount code WonderfestPromo for $10 off in-person and virtual tickets. This discount will bring the virtual ticket price to a nicely round figure of ZERO dollars.
Collaborators:
Commonwealth Club of California