With the recent discovery of habitable environments beyond Earth — including the subsurface oceans of icy moons in the outer Solar System — the existence of extraterrestrial life appears now both possible and realistic. Planetary scientist
Alphonso Davila
 will describe NASA's search for evidence of a second, Earth-independent origin of life: a genuine "second genesis."
Dr. Alphonso Davila is a research scientist at the SETI Institute and in the Exobiology Branch at NASA Ames Research Center.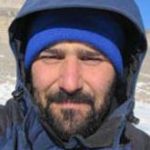 Dr. Alphonso Davila
WHAT: The Search for Life's Second Genesis: Motive, Means, & Opportunity
WHO: Dr. Alphonso Davila
WHERE:
Cushing "Mountain" Amphitheater, Pan Toll Road at Ridgecrest Blvd, Mt. Tamalpais State Park
Map: [
http://goo.gl/maps/iRRFR
]
WHEN: 2018-07-14 — 8:00pm, Saturday, July 14, 2018
HOW: Mt. Tamalpais State Park closes at sunset
; on July 14th, that's ~ 8:30pm. Thereafter, vehicles will not be admitted. Please note these
new rules
:
   Vehicles can exit the Park until 10:30pm; after that, remaining vehicles may be cited.
   After sunset, vehicles lacking a dashboard Astro Program parking pass may be cited.
   Print a FREE Astro Program parking pass at this Eventbrite website.
This event is presented, admission-free, by Wonderfest, the Friends of Mt. Tam, the San Francisco Amateur Astronomers, and Mt. Tamalpais State Park. Optional sky tour and telescope viewing will follow.
Bring a flashlight and — even though mountaintop weather (above the fog) is often warmer than down at sea level — wear warm clothes in layers. If rain or wildfire threatens, call 415-455-5370 after 4pm on event day.