Racing Extinction is a compelling documentary about the (pending) legacy of Earth's Anthropocene epoch: a species mass extinction caused, world-wide, by human activity. The Emmy-nominated film is 81% "Fresh" at Rotten Tomatoes, and it won the Cinema for Peace International Green Film Award. This special screening of Racing Extinction will be followed by expert commentary and Q&A with conservationist and tropical ecologist Dr. Rodolfo Dirzo.
Dr. Rodolfo Dirzo is Professor of Environmental Science at Stanford University. He is also Senior Fellow at Stanford Woods Institute for the Environment.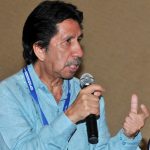 Dr. Rodolfo Dirzo
WHAT: Racing Extinction, w/ Expert Commentary
WHO: Dr. Rodolfo Dirzo, Professor of Environmental Science, Stanford
WHEN: 2020-02-04 — 6:30pm, Tuesday, Feb 4 (2.25 hr)
HOW:
This FREE presentation is co-produced by Wonderfest, the Castro Valley Education Foundation, and Castro Valley Science. All donations — via the inaptly named "Tickets" box, below — will be shared among these three inspiring (and inspired) organizations. THANK YOU for helping!