From the iconic mission control center in Houston that guided astronauts to the Moon, to the control centers for robotic explorers that extend our senses to the solar system and beyond,
mission control
serves as the nerve center for decisions, planning, science, command, and control for our journeys into space.
Centers of technical excellence, and also symbols of our explorations, mission control has evolved with time, technology, and new missions. Of course, cathode ray tubes have given way to flat screens and touch screens. But has mission operations fundamentally changed from the glory days of Apollo? The closed world of mission control is starting to open, with open data and open-source software projects that allow anyone — citizen scientists and engineers — to participate.
Our speaker,
Jay Trimble
, is a computer scientist in NASA's Intelligent Systems Division at Ames Research Center. He has also served as Lead Operations Director for Space Radar Lab at the Jet Propulsion Lab, and Shuttle Mission Controller at NASA Johnson Space Center.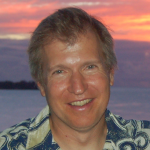 Jay P. Trimble
WHAT: Opening NASA's Mission Control
WHO: Jay P. Trimble, Computer Scientist, NASA-Ames Research Center
WHEN: 2018-10-22 — 7:00pm, Monday, October 22, 2018
HOW: This events no admission charge. But please use the "Tickets" box, below, to make a tax-deductible contribution to Wonderfest.