The Northern Lights (aurora) can appear as a deep red glow here in California. In Alaska, it more often appears as a bright green band, glowing across the night sky. Scientists are still researching why these dynamic lights look the way they do. Come learn more about the underlying reasons for auroras, their connection to the activity on the Sun, and how photographers are helping us better understand the different ways these lights manifest ... and delight.
Our speaker, physicist Laura Peticolas, is Scientist and Associate Director of Education & Outreach at Sonoma State University.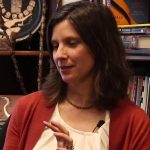 Dr. Laura Peticolas
WHAT: Northern DeLights: From Deep Red Glow to Shimmering Green Curtain
WHO: Dr. Laura Peticolas, Assoc. Director of Education & Outreach, Sonoma State Univ.
WHERE:
Cushing "Mountain" Amphitheater, Pan Toll Road at Ridgecrest Blvd, Mt. Tamalpais State Park
Map: [
http://goo.gl/maps/iRRFR
]
WHEN: 2018-05-19 — 8:00pm, Saturday, May 19, 2018
HOW: Mt. Tamalpais State Park closes at sunset
; on May 19th, that's ~ 8:15pm. Thereafter, vehicles will not be admitted. Please note these
new rules
:
   Vehicles can exit the Park until 10:30pm; after that, remaining vehicles may be cited.
   After sunset, vehicles lacking a dashboard Astro Program parking pass may be cited.
   Print a FREE Astro Program parking pass at this Eventbrite website.
This FREE science event is presented by Wonderfest, the Friends of Mt. Tam, the San Francisco Amateur Astronomers, and Mt. Tamalpais State Park. Optional sky tour and telescope viewing will follow.
Bring a flashlight and — even though mountaintop weather (above the fog) is often warmer than down at sea level — wear warm clothes in layers. If rain or wildfire threatens, call 415-455-5370 after 4pm on event day.