What do food webs, Facebook, and the electrical grid all have in common? They can all be thought of as networks of interconnected entities. Network science provides an exciting set of tools for understanding complex systems, and offers important insights for conserving biodiversity on our rapidly changing planet. This talk will explore how networks can help us reverse the current extinction crisis, design more resilient ecosystems, and empower underserved youth.
Our speaker, Tyler McFadden, is a Wildlife Ecologist with the Stanford Biology Department. He is also a Wonderfest Science Envoy.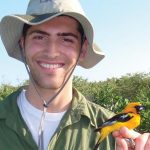 Tyler McFadden
WHAT: Network Science: Perspectives on Ecology, Conservation, & Education
WHO: Tyler McFadden, Wildlife Ecologist, Stanford Biology Department
WHERE: Blue River Technology, 605 W California Avenue, Sunnyvale
WHEN: 2019-05-09 — 6:00pm, Thursday, May 9 (1.5 hrs)
HOW:
This event — these insights — are FREE. But please consider using the "Tickets" box (below) to help nonprofit Wonderfest share the insights of science.