Much of what we think we know about space comes from film and television, but Hollywood's job is more often to entertain than to educate. In this fun, informative, and FREE presentation, Prof. Thomas Targett of Sonoma State University will sort fact from fiction, taking a tour through the worlds of Star Trek, Star Wars, and much more.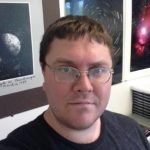 Dr. Thomas Targett
WHAT: Popular Myths of Astronomy
WHO: Dr. Thomas Targett, Asst. Professor of Astronomy & Physics, CSU Sonoma
WHEN: 2017-05-27 — 8:30pm, Saturday, May 27, 2017
HOW: This FREE event is presented by Wonderfest, the Friends of Mt. Tam, the San Francisco Amateur Astronomers, and Mount Tamalpais State Park. Optional sky tour and telescope viewing will follow. Bring a flashlight and — even though mountaintop weather (above the fog) is often warmer than down at sea level — wear warm clothes in layers. If bad weather threatens, call 415-455-5370 after 4pm on event day.