The first human mission to Mars will be our greatest adventure of the 21st-century. As with all expeditions, its success will depend on planning. The first steps are already under way: achieving longer spaceflight missions, planning for deep space journeys beyond the Moon, and exploring extreme terrestrial environments as Mars "analogs." NASA'S Pascal Lee will discuss progress made around the world — from the Arctic to Antarctica, from basement labs to the International Space Station — to achieve the first human voyage to Mars. He will explore the what, why, how, when, and who of our first journey to the Red Planet.
Dr. Pascal Lee is a planetary scientist at the Mars Institute and at the SETI Institute. He also directs the Haughton-Mars Project at NASA Ames Research Center.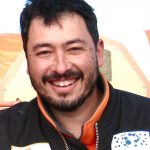 Dr. Pascal Lee
WHAT: MISSION: MARS
WHO: Dr. Pascal Lee, Planetary Scientist, Mars & SETI Institutes
WHERE:
Cushing "Mountain" Amphitheater, Pan Toll Road at Ridgecrest Blvd., Mt. Tamalpais State Park
Map: [
http://goo.gl/maps/iRRFR
]
WHEN: 2019-09-07 — 7:30pm, Sat, Sep 7 (1 hr)
HOW:
Mt. Tamalpais State Park closes at sunset; on September 7th, that's ~ 7:30pm. Only vehicles with an Astronomy Program parking pass will be admitted thereafter:
   Print a FREE Astro Program parking pass at this Eventbrite website.
   After sunset, vehicles lacking a parking pass may be cited.
   Vehicles can exit the Park until 10:30pm; after that, remaining vehicles may be cited.
This event is presented, admission-free, by Wonderfest, the Friends of Mount Tam, the San Francisco Amateur Astronomers, and Mt. Tamalpais State Park. Optional sky tour and telescope viewing will follow the lecture.
Bring a flashlight and — even though mountaintop weather (above the fog) can be warmer than down at sea level — wear warm clothes in layers. If rain or wildfire threatens, call 415-455-5370 after 3:30pm on event day to learn about event status.