The first human mission to Mars will be the greatest adventure of the 21st-century. As with all expeditions, its success will depend on planning. The first steps are already under way: achieving longer spaceflight missions, planning for deep space journeys beyond the Moon, and exploring extreme terrestrial environments as Mars "analogs."
Dr. Pascal Lee will discuss progress made around the world — from the Arctic to Antarctica, from basement labs to the International Space Station — to achieve the first human voyage to Mars. He will explore the what, why, how, when, and who of our first journey to the Red Planet.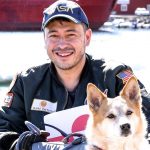 Dr. Pascal Lee
WHAT: MISSION: MARS
WHEN: 2018-02-20 — 7:30, Tuesday, February 20, 2018
HOW: Free parking is available in the large, multistory lot adjacent to Box HQ. Just be sure to validate your parking stub during registration in the Box lobby. This entire event has no admission charge. If you'd like to support nonprofit Wonderfest, please use the "Tickets" box, below.