If
mind
is "what the brain does," how does the brain do it? And how are other parts of the body involved in creating
mind
? Wonderfest presents two neuroscientists with deep insights into the mind-body connection:
At 7:30pm, Elissa Epel, presents "A Sweet Story: Stress, Eating, and Mindfulness." Dr. Epel is Professor of Psychiatry and Director of UCSF's Aging, Metabolism, and Emotions Lab.
At 8:30pm, Howard Fields presents "How the Brain Creates a Virtual Mind-Body Experience." Dr. Fields is Professor of Neurology and Director of UCSF's Wheeler Center for the Neurobiology of Addiction.
Please join in this special Wonderfest contribution to
Brain & Body NightLife
at the California Academy of Sciences by purchasing tickets via the Cal Academy link below. [Note: The full
NightLife
experience begins at 6:00pm; only adults 21+ are admitted.]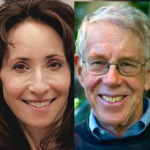 Elissa Epel & Howard Fields
WHAT: Mind-Body Inquiry
WHO: Elissa Epel & Howard Fields
WHEN: 2017-05-11 — 7:30pm, Thursday, May 11, 2017