Wonderfest celebrates the 10th annual National Evening of Science on Screen with the new sci-fi comedy-drama LINOLEUM and with the expert commentary of planetary scientist Dr. Pascal Lee. LINOLEUM chronicles the reality-jarring challenges of a midwest dreamer who decides to build his own rocketship. Early reviews give the movie a RottenTomatoes rating of "86% Fresh." Angie Han of the Hollywood Reporter calls LINOLEUM'S final minutes "even more startling in their heart-wrenching effectiveness than in their mind-bending twists." After this special screening, a real rocket scientist, Dr. Pascal Lee, will discuss "how to spend a month on Mars" and will answer questions about the vast beyond.
Dr. Pascal Lee is co-founder and chairman of the Mars Institute. He is also a planetary scientist at the SETI Institute, an artist & author, and the Principal Investigator of the Haughton-Mars Project at NASA Ames Research Center.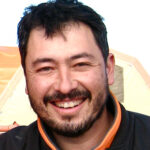 Dr. Pascal Lee
WHAT: LINOLEUM movie + Exploring Mars
WHEN: 2023-03-28 — 5pm, Tuesday, March 28 (2 hours)
HOW:
Purchase tickets via the Cameo Cinema webpage provided below, and please consider a donation to Wonderfest in the Eventbrite space, further below.