We search for the origins of life on Earth and the potential for life elsewhere, but what are we actually looking for?
What is life?
Is there only one way to construct a living organism, or are we Earthlings but one possibility out of a multitude?
Our speaker, Dr. Lynn Rothschild, is an astrobiologist and synthetic biologist at NASA Ames Research Center. She is also an adjunct professor at Brown University and at UC Santa Cruz.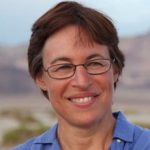 Dr. Lynn Rothschild
WHAT: Is There a Universal Biology?
WHO: Dr. Lynn Rothschild, Astrobiologist, NASA Ames Research Center
WHERE: Alameda Free Library, 1550 Oak Street, Alameda, CA 94501
WHEN: 2018-04-08 — 2:00pm, Sunday, April 8, 2018
HOW: Thanks to the thoughtfulness of Wonderfest supporters, this event has no admission charge. If you, too, would like to support nonprofit Wonderfest, please use the "Tickets" box, below.