The modern scientific
search for extraterrestrial intelligence
(SETI) is decades old. Why, so far, have we gotten no hint of cosmic companionship? SETI pioneer
Dan Werthimer
will describe the rationale for past and future searches, and will show how new technologies are revolutionizing SETI.
Dan Werthimer is chief scientist at the Berkeley SETI Research Center. He oversees both SETI@home and the new $100-million Breakthrough Listen project.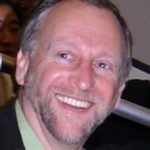 Dan Werthimer
WHAT: Is Anybody Out There?
WHO: Dan Werthimer, Chief Scientist, Berkeley SETI Research Center
WHEN: 2018-03-25 — 7:00pm, Sunday, March 25, 2018
HOW: This is event is FREE. But what value does this knowledge have FOR YOU? Please contribute to Wonderfest accordingly, ... and deduct it from your taxes. Help nonprofit Wonderfest to spread the scientific outlook via the "Tickets" box, below.