Physics has always sought to deepen our understanding of reality, particularly our concept of matter. Today, city-size machines crash together particles — at nearly the speed of light — that are a trillion times smaller than a grain of sand. The resulting insights have both theoretical and practical value: a more profound (and weird) concept of existence, and new technologies such as diagnostic imaging and radiation therapy. Wonderfest joins BookShop West Portal — online — to present physicist Dr. Suzie Sheehy in discussion of her new book The Matter of Everything: How Curiosity, Physics, and Improbable Experiments Changed the World. [Image: The ATLAS detector of CERN's Large Hadron Collider]
Dr. Suzie Sheehy is a physicist, science communicator, and academic who divides her time between research groups at England's University of Oxford and Australia's University of Melbourne.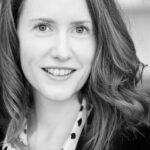 Dr. Suzie Sheehy
WHAT: Probing the Heart of Matter
WHEN: 2023-01-22 — 1 PM, Sunday, Jan 22 (1 hour)
HOW:
To purchase Dr. Sheehy's new book, The Matter of Everything, visit BookShop West Portal's "Collaborators" link, below. And to support the cause of science outreach, please consider a donation to nonprofit Wonderfest — via the Eventbrite space below. Ignore any mention of Tickets or Sales because this event is entirely free and unticketed.
Collaborators:
BookShop West Portal [
https://www.bookshopwestportal.com/event/virtual-dr-suzie-sheehy-co-hosted-wonderfest
]