DUE TO A "RED FLAG FIRE WARNING," MT. TAMALPAIS STATE PARK IS CLOSED ALL WEEKEND. THIS EVENT IS CANCELLED.
100 years ago, Einstein predicted that light rays would curve from their straight-line paths in the space near massive objects, as if being bent by a lens. Today, astronomers use this fact to weigh galaxies, discover planets around other stars, and 'see' invisible black holes. How did this idea of gravitational lensing come about, and how do we use it today to probe astrophysical mysteries?
Our speaker, Fatima Abdurrahman, is a PhD candidate in the Astronomy Department at UC Berkeley. She is also a Wonderfest Science Envoy.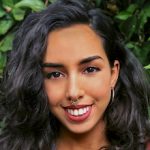 Fatima Abdurrahman
WHAT: Gravitational Lensing ***CANCELLED***
WHO: Fatima Abdurrahman, UC Berkeley Astronomy Department
WHERE:
Cushing "Mountain" Amphitheater, Pan Toll Road at Ridgecrest Blvd., Mt. Tamalpais State Park
Map: [
http://goo.gl/maps/iRRFR
]
WHEN: 2019-06-08 *** CANCELLED *** (1 hour)
HOW:
Mt. Tamalpais State Park closes at sunset; on June 8th, that's ~ 8:30pm. Only vehicles with an Astronomy Program parking pass will be admitted thereafter:
   Print a FREE Astro Program parking pass at this Eventbrite website.
   After sunset, vehicles lacking a parking pass may be cited.
   Vehicles can exit the Park until 10:30pm; after that, remaining vehicles may be cited.
This event is presented, admission-free, by Wonderfest, the Friends of Mount Tam, the San Francisco Amateur Astronomers, and Mt. Tamalpais State Park. Optional sky tour and telescope viewing will follow the lecture.
Bring a flashlight and — even though mountaintop weather (above the fog) can be warmer than down at sea level — wear warm clothes in layers. If rain or wildfire threatens, call 415-455-5370 after 3:30pm on event day to learn about event status.