Reading the news is a lousy way to learn about global warming. Why? Because news outlets focus on what is novel, so they rarely discuss the big picture that has been causing climate scientists to lose sleep for decades. This presentation provides the big picture. It will arm you with a few simple numbers to be confident in your understanding of global warming, its impacts, our failure to act, and what needs to be done.
Our Earth Day speaker, Dr. David Romps, holds the Goldman Distinguished Chair in the Physical Sciences at UC Berkeley. He is also Associate Professor of Earth & Planetary Science, and he directs the Berkeley Atmospheric Sciences Center.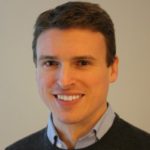 Dr. David Romps
WHAT: Global Warming: Why It's a Big Deal, and What Can Be Done Now
WHO: Dr. David Romps, Assoc. Professor of Earth & Planetary Science, UC Berkeley
WHEN: 2018-04-22 — 7:00pm, Sunday, April 22, 2018
HOW: This special EARTH DAY event is FREE. But what value does this insight have FOR YOU? Please contribute to Wonderfest accordingly, ... and deduct it from your taxes. Help nonprofit Wonderfest to spread the scientific outlook via the "Tickets" box, below.