Genetic engineering and editing allow us to modify plants in various ways. Questions have been raised about the environmental and human-health effects of these technologies to modify the genetic information in crops and foods. What is the history of genetic modification of plants, and what impact might these technologies have on the future of foods?
Our speaker, Dr. Peggy Lemaux, is Cooperative Extension Specialist at UC Berkeley. She, also, was the chair of UC's Agricultural and Natural Resources Biotechnology Workgroup.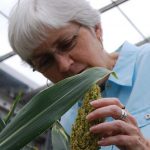 Dr. Peggy Lemaux
WHAT: Engineering and Editing of Crops and Foods
WHO: Dr. Peggy Lemaux, Chair, UC Agricultural Biotechnology Workgroup
WHEN: 2019-11-18 — 6pm, Monday, Nov 18 (1.5 hrs)
HOW:
What value does this FREE Wonderfest event have for YOU? Please consider a corresponding donation (or more!) to nonprofit Wonderfest via this link.