First Man is 2018's Oscar-winning dramatization of events — and emotions — leading up to the Apollo 11 Moon mission in 1969. Following a special Science on Screen showing of First Man at St. Helena's Cameo Cinema, Wonderfest presents expert analysis of those events and emotions by NASA Mission Control insider Jay Trimble, and by The Apollo Chronicles author Brandon Brown.
Jay P. Trimble is Founder and Lead at Open Mission Control Technologies, NASA Ames Research Center. Brandon R. Brown, PhD, is Professor of Physics & Astronomy, University of San Francisco.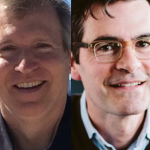 Jay Trimble & Brandon Brown
WHAT: First Man, with Insights
WHO: Jay Trimble & Brandon Brown
WHEN: 2019-03-23 — 7:30pm, Sat, March 23rd (3 hrs)
HOW:
Purchase advance tickets via the Cameo Cinema website, linked below.