Scientific forecasts span a staggering breadth of time scales, and they range in precision from vague & qualitative to exact & quantitative. This presentation will provide an overview of predictability. We'll look at examples drawn from trading, meteorology, celestial mechanics, and cosmology. Finally, we'll end with the latest research-based forecasts for what will happen to the Universe in the extremely distant future.
Our speaker, Dr. Greg Laughlin, is Professor of Astronomy at Yale University. He is co-author of The Five Ages of the Universe and co-founder of the online prediction aggregator Metaculus.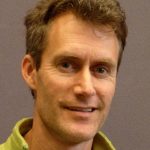 Greg Laughlin
WHAT: Deep Prediction: Forecasting on Time Scales from Microseconds to Eons
WHO: Greg Laughlin, Professor of Astronomy, Yale University
WHEN: 2021-06-19 — 7:30 PDT, Sat, June 19 (1 hour)
HOW:
This free event is co-produced by Wonderfest and the Mt. Tam Astronomy Program. Please use the Eventbrite space below to help nonprofit Wonderfest share the excitement of science with the general public.
Collaborators:
Mount Tamalpais Astronomy Program [
https://www.mttamastronomy.org
]