How can we explain humanity's extraordinary evolutionary success? In this talk, psychologist Jan Engelmann will explain and explore a series of experimental studies comparing humans to one of our closest living relatives, chimpanzees. He will argue and present evidence that — maybe surprisingly — humans are not individually but are collectively smarter than other animals. Counterintuitively, our cooperative nature also gives rise to novel and powerful forms of competition among individuals and whole groups.
Jan Engelmann is Assistant Professor of Psychology at UC Berkeley. Dr. Engelmann earned his PhD at the Max Planck Institute for Evolutionary Anthropology, and has received numerous awards and grants for his research.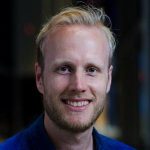 Dr. Jan Engelmann
WHAT: The Cultural Intelligence Hypothesis
WHEN: 2020-12-03 — 8:00pm PST, Thu, Dec 3 (1 hour)
HOW:
Please take part in this admission-free event via the Zoom link ("WHERE") above. And please consider contributing to Wonderfest, below, in accord with the value this experience has for you.