"The trouble with the world is that the stupid are cocksure, and the intelligent are full of doubt." So said philosopher, mathematician, and Nobel laureate (in literature!) Bertrand Russell. Indeed, overconfidence leads us to delude ourselves with wishful thinking, take too many risks, and waste time on doomed ventures. Under-confidence dissuades us from taking risks and pursuing ventures that can enrich life in so many ways. Psychological evidence and insight help us to thread the needle between foolhardy overconfidence and stultifying under-confidence.
Wonderfest joins the Commonwealth Club in presenting UC Berkeley's Donald Moore, Mitchell Chair in Leadership at the Haas School of Business, in conversation with Patrick O'Reilly, Chair of the Commonwealth Club's Psychology Forum. Dr. Moore's latest book is Perfectly Confident: How to Calibrate Your Decisions Wisely.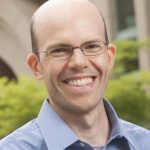 Dr. Donald Moore
WHAT: Critical Thinking and the Psychology of Confidence
WHO: Dr. Donald Moore, Mitchell Chair in Leadership, Haas School of Business, UCB
WHEN: 2020-09-29 — 6pm PDT, Tue, Sep 29 (1 hr)
HOW:
Register for this FREE online event via the Commonwealth Club weblink, above. Registration ends one hour before event begins.
Please consider supporting Wonderfest's science outreach work via the inaptly name "Tickets" box, below.