As an old adage (mistakenly attributed to Confucius) notes, it's difficult to find a black cat in a dark room, especially when there is no cat. Conspiracy theories have long been prevalent in the United States, but today they seem to be especially popular — from politics to popular culture — particularly on social media. In the spirit of another adage, "even paranoids have enemies": there are real conspiracies, and some of them are important and even dangerous. How do we distinguish the real conspiracies from the tinfoil-hat ones?
Our speaker, Dr. Eugenie Scott, is former executive director of the National Center for Science Education. She is an internationally-known expert on science denialism and the creationism/evolution controversy. Dr. Scott has won numerous awards from scientific and educational institutions, including ten honorary doctoral degrees.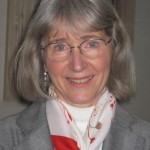 Eugenie Scott
WHAT: How To Think About Conspiracy Theories
WHO: Eugenie Scott, Former Executive Director, National Center for Science Education
WHEN: 2021-05-06 — 8pm PDT, Thu, May 6th (1 hour)
HOW:
What value does this FREE event have for you? Accordingly, please use the space below to contribute to Wonderfest's science outreach efforts.
Collaborators:
Alameda Free Library [
https://www.alamedafree.org
]