Psychologist Mariel Goddu explores the origins of logical thought, from prehistory to everyday modern problem-solving. Neuroscientist Ryan York explains the romantic lengths to which one castle-building critter will go in the name of romance.
Mariel Goddu is a doctoral candidate at UC Berkeley's Institute of Human Development, and Ryan York is a postdoctoral scholar in Stanford's Department of Neurobiology. Both Mariel and Ryan are Wonderfest Science Envoys.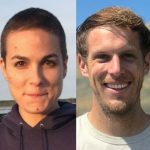 Mariel Goddu & Ryan York
WHAT: The Making of Your Mind, and Building Sandcastles for Sex
WHO: Mariel Goddu & Ryan York, Wonderfest Science Envoys
WHEN: 2018-04-23 — 7:30pm, Monday, April 23, 2018
HOW: Please purchase tickets to this Wonderfest collaboration with taste of science at the webaddress below.