The detection of gravitational waves from merging stellar-mass black holes has generated much excitement. We expect that similar events — but with black holes that are millions to billions of times heavier — can occasionally occur. Dr. Romani will describe observations of super-massive black hole "binaries." He will also discuss the search for such binaries that can eventually merge to produce the "loudest" signals in the universe — as the two super-massive black holes conclude their cosmic dance.
Our speaker, Roger Romani, is Professor of Physics at Stanford University.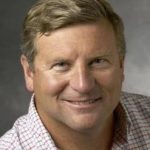 Dr. Roger Romani
WHAT: Super-Massive Black Hole Pairs
WHO: Dr. Roger Romani, Professor of Physics, Stanford
WHERE: Blue River Technology, 605 W California Ave., Sunnyvale, CA 94086
WHEN: 2019-08-21 — 8:00pm, Wed, Aug 21 (1.5 hours)
HOW:
What is this admission-free experience worth to you? Accordingly, please use the Eventbrite "Tickets" box, below, to contribute to Wonderfest.