Advances in recent decades have allowed amateur astronomers to produce deep space and planetary pictures that rival those taken by professional observatories. This presentation will provide an overview of off-the-shelf instruments and methods anyone, with perseverance and patience, can use to take amazing night-sky photographs.
Astronomical images reveal humankind's true place in the Universe. Why not capture some, yourself?
Our speaker, Jay GaBany, is president and CEO of  the Advanced Imaging Conference. He has written over fifty articles for
Sky & Telescope
,
The Universe Today
, and the UK's
Astronomy Now
magazines, AND he was twice chosen by
Time
magazine as one of its
25 most influential people in space
.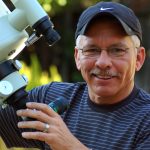 Jay GaBany
WHAT: Astrophotography For Everyone
WHO: Jay GaBany, President & CEO, Advanced Imaging Conference
WHERE:
Cushing "Mountain" Amphitheater, Pan Toll Road at Ridgecrest Blvd, Mt. Tamalpais State Park
Map: [
http://goo.gl/maps/iRRFR
]
WHEN: 2018-05-19 — 8:00pm, Saturday, May 18, 2018
HOW:
This FREE event is presented by Wonderfest, the Friends of Mt. Tam, the San Francisco Amateur Astronomers, and Mount Tamalpais State Park. Optional sky tour and telescope viewing will follow.
Bring a flashlight and — even though mountaintop weather (above the fog) is often warmer than down at sea level — wear warm clothes in layers. If rain or wildfire threatens, call 415-455-5370 after 4pm on event day.
PLEASE consider a contribution to Wonderfest (via the "Tickets" window, below) to support science popularization. We've never needed an appreciation of the FACTS — and of the beautiful mysteries — more!