Following a special "Science on Screen" presentation of 2012's
Robot and Frank
(87% "Fresh" at RottenTomatoes.com), UC Berkeley computer scientist
Michael Laskey
will discuss the movie's fantasy/reality balance. He will also answer audience questions about recent advances in the general fields of robotics and artificial intelligence.
Michael Laskey is primed to receive his PhD in Artificial Intelligence / Robotics at UC Berkeley. He has worked at Intel, and currently conducts research at Berkeley's Automation Lab.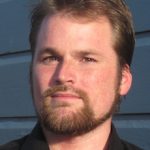 Michael Laskey
WHAT: AI and Robots and Frank
WHO: Michael Laskey, UC Berkeley Automation Lab
WHEN: 2018-07-10 — 7:45pm, Tuesday, July 10, 2018
HOW: Purchase tickets via the Cameo Cinema link immediately below. To keep Wonderfest's "beacon of science" shining brightly, consider a contribution via the Eventbrite window, farther below.