Are we alone?
Humans have been asking this question throughout history. Accordingly, we want also to know where we came from, how we fit into the cosmos, and where we are going. We want to know whether there is life beyond the Earth and whether any of it is intelligent. As we look up and look out, legendary SETI pioneer Jill Tarter says: "We are forced to see ourselves from a cosmic perspective; a perspective that shows us as all the same, all Earthlings. This perspective is fundamental to finding a way to sustain life on Earth for the long future."
Dr. Jill Tarter is Chair Emeritus for SETI Research at the SETI Institute in Mountain View. Dr. Tarter was the inspiration for Jody Foster's character in Carl Sagan's novel and movie, "Contact."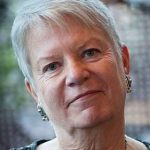 Dr. Jill Tarter
WHAT: A Cosmic Perspective: Searching for Aliens, Finding Ourselves
WHO: Dr. Jill Tarter, Chair Emeritus for SETI Research, SETI Institute
WHERE:
Cushing "Mountain" Amphitheater, Pan Toll Road at Ridgecrest Blvd, Mt. Tamalpais State Park
Map: [
http://goo.gl/maps/iRRFR
]
WHEN: 2018-09-15 — 7:30pm, Saturday, September 15, 2018
HOW: Mt. Tamalpais State Park closes at sunset
; on September 15th, that's ~ 7:20pm. Only vehicles with an Astronomy Program parking pass will be admitted thereafter:
   Print a FREE Astro Program parking pass at this Eventbrite website.
   After sunset, vehicles lacking a parking pass may be cited.
   Vehicles can exit the Park until 10:30pm; after that, remaining vehicles may be cited.
This event is presented, admission-free, by Wonderfest, the Friends of Mt. Tam, the San Francisco Amateur Astronomers, and Mt. Tamalpais State Park. Optional sky tour and telescope viewing will follow.
Bring a flashlight and — even though mountaintop weather (above the fog) is often warmer than down at sea level — wear warm clothes in layers. If rain or wildfire threatens, call 415-455-5370 after 4pm on event day.