Caring deeply about our children is part of what makes us human. Yet the thing we call "parenting" is a surprisingly new invention. In the past thirty years, "parenting" has transformed child care into an obsessive, controlling, and goal-oriented effort to create a particular kind of child. Drawing on the study of human evolution and her own cutting-edge research, developmental psychologist and philosopher
Alison Gopnik
shatters key myths of "good parenting." Interviewing Dr. Gopnik will be Julie Lythcott-Haims, author of
How to Raise an Adult
.
Alison Gopnik is Professor of Psychology and Affiliate Professor of Philosophy at the University of California, Berkeley. She is an internationally recognized leader in the study of children's learning and development and was the first to argue that children's minds could help us understand deep philosophical questions.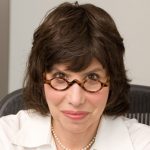 Dr. Alison Gopnik
WHAT: The Parent as Gardener
WHO: Dr. Alison Gopnik, Professor of Psychology, UC Berkeley
WHEN: 2017-02-16 7:00pm, Thursday, February 16, 2017
HOW: Co-produced with the Commonwealth Club Silicon Valley. Purchase DISCOUNT tickets with promo code WONDERFEST via the Eventbrite link, below.