Due to very heavy fog — and consequent wetness of the rock "seats" in the amphitheater — the Tamalpais State Park Ranger in charge of this program CANCELLED the event as a safety measure. The cancellation happened at ~ 6:45pm on "the day of." Wonderfest staff posted this cancellation notice as soon as we could. We're sorry for the likely inconvenience!
The first human mission to Mars will be the greatest adventure of the 21st-century. As with all expeditions, its success will depend on planning. The first steps are already under way: achieving longer spaceflight missions, planning for deep space journeys beyond the Moon, and exploring extreme terrestrial environments as Mars "analogs."
Dr. Pascal Lee will discuss progress made around the world — from the Arctic to Antarctica, from basement labs to the International Space Station — to achieve the first human voyage to Mars. He will explore the what, why, how, when, and who of our first journey to the Red Planet.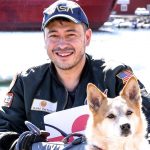 Dr. Pascal Lee
WHAT: MISSION: MARS
WHO: Dr. Pascal Lee, Planetary Scientist, Mars Institute and SETI Institute
WHERE:
Cushing "Mountain" Amphitheater, Pan Toll Road at Ridgecrest Blvd, Mt. Tamalpais State Park
Map: [
http://goo.gl/maps/iRRFR
]
WHEN: 2018-06-16 — 8:00pm, Saturday, June 16, 2018
HOW: Mt. Tamalpais State Park closes at sunset
; on June 16th, that's ~ 8:30pm. Thereafter, vehicles will not be admitted. Please note these
new rules
:
   Vehicles can exit the Park until 10:30pm; after that, remaining vehicles may be cited.
   After sunset, vehicles lacking a dashboard Astro Program parking pass may be cited.
   Print a FREE Astro Program parking pass at this Eventbrite website.
This event is presented, admission-free, by Wonderfest, the Friends of Mt. Tam, the San Francisco Amateur Astronomers, and Mt. Tamalpais State Park. Optional sky tour and telescope viewing will follow.
Bring a flashlight and — even though mountaintop weather (above the fog) is often warmer than down at sea level — wear warm clothes in layers. If rain or wildfire threatens, call 415-455-5370 after 4pm on event day.